In order to provide the best service and keep up with the trends of the 21st century, in 2019 OC VISION launches a new brand of optics in the market. Pasaules Optika stores are beeing transformed into the VIZIONETTE optical stores. 
Essence of VIZIONETTE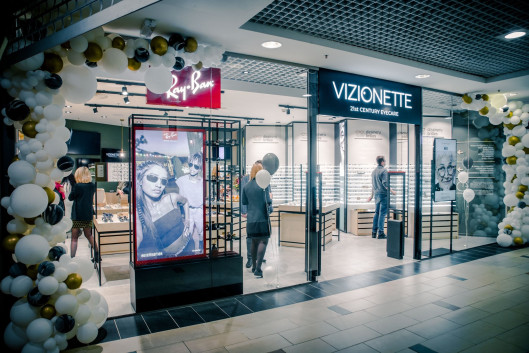 Modern 21st Century a chain of optical shops in Europe for a wide audience. Expert in optics and style, where everyone has access to beautiful glasses, stylish sunglasses, contact lenses and eye examination by the best specialists in the industry. The extensive self-service sector, convenience store environment and advanced technology will make shopping fun and entertaining.
Shopping as an adventure
Within the VIZIONETTE concept store, shopping will be both entertaining and educational.
Do-it-yourself zone - here you will be able to independently perform ultrasonic cleaning of glasses, small repair work, such as replacing screws or nose supports, replenish the care fluid for glasses and learn interesting information about vision using an audio guide.
Nikon lens zone - with the help of our specialists, you will be able to learn everything about the advantages and differences of Nikon lenses, so that you can choose the most suitable ones for you.
Eye SPA - in the relaxation area, you will be able to take advantage of the opportunity to pamper your eyes with a gentle air pressure massage to reduce dark circles under the eyes, improve blood circulation in the eye area and simply relax. Don't forget to taste our delicious coffee too!
Environmentally friendly solutions - are you trying to live environmentally friendly? When you buy one bottle of VIZIONETTE lens cleaning fluid for glasses, you can refill it countless times for free.
Variety of brands - indulge yourself with glasses from a wide variety of brands. Choose glasses from such world-famous brands as Ray-Ban, Versace, Dolce&Gabbana, Tom Ford or Gucci. Get inspired by the brands GIGI Studios or Yalea. Or reveal your true nature with our own brand Cvantus, which is created in Latvia.
VIZIONETTE - glasses that suit everyone!